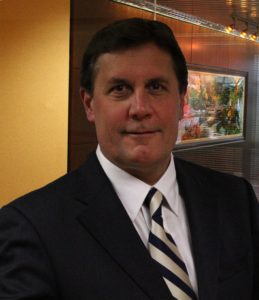 Peter M. DeLongis – Founding Partner
Phone:   (630) 889-8585
Fax:       (630) 889-8586
Email:    pmd@delongislegal.com
Peter DeLongis began his legal career by distinguishing himself for seven years as an Assistant State's Attorney in the Cook County State's Attorney's Office. Mr. DeLongis' first assignment as a prosecutor was in the Appeals Division where he authored in excess of seventy appellate briefs, and argued before the Illinois Supreme Court as well as all divisions of the First District Appellate Court. Mr. DeLongis eventually rose to the position of First Chair Felony Trial Assistant at the main Cook County Criminal Courthouse at 26th and California in Chicago, the largest criminal court system in the county. As a First Chair Felony Assistant, Mr. DeLongis was responsible for prosecuting hundreds of felony criminal cases in several major courtrooms at 26th and California before some of the most legendary criminal judges in the country. During his career as a prosecutor, Mr. DeLongis tried hundreds of bench and jury trials including sex offenses, drug-related offenses, gang-related offenses, and over a dozen homicides, some of which involved capital punishment.
Mr. DeLongis joined a prominent litigation firm located in Oak Brook, Illinois as an associate in 1988, and became a named partner in 1995. He specialized in the areas of commercial litigation, personal injury, family law, and criminal defense in Cook, DuPage, Will and Kane Counties.
Mr. DeLongis left his prior firm in early 2012, at which time he founded the Law Offices of Peter M. DeLongis, Ltd., located in Oakbrook Terrace, DuPage County, Illinois. Mr. DeLongis continues to specialize in the areas of commercial litigation, personal injury, family law, and criminal defense. Mr. DeLongis' extensive trial experience and diligent trial preparation makes him extremely qualified to represent clients in diverse legal matters.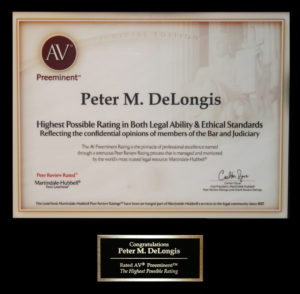 Over the past several decades, Mr. DeLongis has achieved thousands of successful case results, and recovered millions in personal injury awards for clients in complex cases arising from construction site accidents, vehicle accidents, premises liability, pedestrian accidents, school accidents, medical malpractice, nursing home neglect, and product liability. Mr. DeLongis is also experienced in all aspects of complex civil and family law/divorce litigation.
Mr. DeLongis attributes his ongoing success in litigation to his early trial experience as a criminal prosecutor and his relentless desire to obtain the most favorable results possible for the firm's clients.
Areas of Practice
Commercial Litigation
Personal Injury
Family Law
Criminal Defense
Litigation Percentage
80% Litigation
20% Transactional/General Counsel
Bar Admissions
Illinois State Bar
United States District Court, Northern District
Education
J.D. – Chicago-Kent College of Law, 1982
B.A. – Northern Illinois University, 1979
Memberships & Associations
Illinois Trial Lawyers Association
Justinian Society